Trip Report – Darling River Run Part 1
12-25 July 2020
Rob Drummond, TL Nissan Patrol
Phillip & Linda Favaloro, TECs Nissan Patrol
Trip Report by Linda Favaloro
12.7.20
Phillip and I left Sydney at about 12.30pm and the weather was sunny. We were excited that we were finally packed and getting away. Travelled along the Bells Line Road to Lithgow, then onto to Bathurst. Took the Northern Distributor Road instead of driving through Orange and ended up at Forbes for the night. We had experienced heavy rain and cold weather along the way.
13.7.20
Today we are heading for Hay but before arriving at Rankin Springs we drove through a town called Weethalle. It was a small town comprising of a Hotel, museum, serving tea and scones, which was closed, and a general store. We took photos of the train station sign, the painted silos and the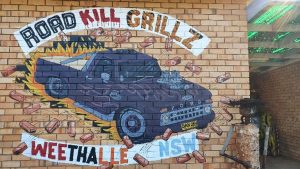 Museum. When we arrived at Rankins Springs, we noticed a sign saying 69km to Lake Cargelligo so we decided to explore and have lunch there by the lake. Also visited the information centre. From there we went to Hillston and we were going to Booligal but the road was closed due to heavy rain, so we went to Hay via Goolgowi.
At Gunbar we stopped for a break and noticed another road closure. A man and his camper were turning around very unhappy. Then I decided to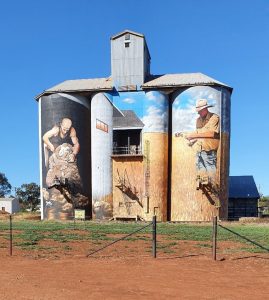 investigate road closures within the areas and found out that our Darling River Run wasn't looking promising. There was a number that you could ring and it was a recorded message of the road closures in Darling Wentworth Council. We found that roads were closed from Pooncarie to Menindee and Menindee to Wilcannia. We were meeting up with Rob tomorrow at Wentworth and would need to discuss alternative routes of travel. I didn't think he is aware of any road closures so we thought we will discuss over scones and tea tomorrow as promised by Rob. Phillip did suggest that maybe he and Rob could go kayaking along the Darling River and leave me alone knitting. At least I would be warm and dry as the boys explored the river by kayak. We saw a few emus along the way to Hay for the night.
14.7.20
We went into Hay to find the National Parks Office as Phillip had difficulty purchasing a senior park pass on line and it was too late to send forms by mail. When we found the office, it was closed and phone line was no longer available but still stated on their website, so we went to the information centre and they told us that the office had been closed for 12 months. They don't do park passes as you have to do it on line, so we were told to call into the Yanga National Park before Balranald but they were closed as Park Ranger was on extended leave. We gave up and proceeded onwards to Euston where we stopped to buy lunch and went to a picnic area alongside the Murray River.
After lunch we continued travelling towards Wentworth. Just after Buronga we visited the Botanical Gardens on River Road. I was disappointed to see the Garden Café and Information Centre closed especially being school holidays. We had organised to meet Rob at Wentworth, Willow Bend Caravan Park. The proprietors Ana and Tony were friendly and helpful. We found out that Tony is a country singer and has a CD available. We met up with Rob in the afternoon and had dinner together. Phillip and Rob arranged to meet down by the river to go kayaking about 6.45am the next day, so it was time to go to bed to be up early in the morning.
15.7.20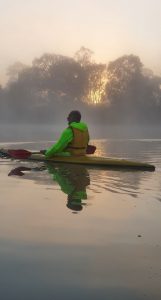 It was very cold and misty but Phillip and Rob still went kayaking on the Darling River and the Murray River. I stayed in the van and kept warm but I made sure things were ready to be packed in the car. They headed off about 7.00am to circumnavigate Junction Island. They were both very cold and frozen when they came back after kayaking for a couple of hours. They were looking forward to a hot shower to warm up but that didn't eventuate as the electrical company had switched off the power to do some work. The temperature was minus 1 in the morning so Tony the caretaker had built a fire by the water to keep his travellers happy.
We went into Wentworth to do some shopping, visit the information centre and gift shops. Then we left Wentworth bound for Pooncarie. As the day went on it was gradually warming up to about 17 degree Celsius, so they both thawed out gradually during the day. Rob spotted a nice shaded area for lunch with river views. Then we continued travelling to our next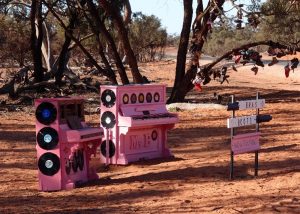 adventure. On our travels we notice two pink pianos on the left-hand side, so we decided to turn around and take a photo. There was a sign saying bras, boots and a pink piano. We arrived at Pooncarie about 4.00pm to set up our tents, had dinner and we went to bed. A very cold and heavy dew that night.
16.7.20
We woke up had breakfast, packed up and on our way to Menindee. Before leaving refuelled at Port Pitstop and paid for our one-night stay at the Multi-Purpose Park at Pooncarie. We stopped at the Old Wharf Café at Pooncarie for a coffee whilst we were there, they were playing Tony's country music in the background. (Tony is the owner of Willow Bend Caravan Park at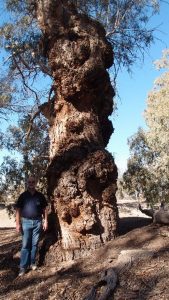 Wentworth). We continued our travel toward Menindee on the High Darling Road, on the western side of the Darling and we were now on a dusty road. It was another sunny and glorious day no wind or rain just dust, just lots of sheep on either side of the road. We stopped for lunch by the Darling River at Polia Station and on the other side of the fence, near the river, sheep were coming down the steep riverbank to the river for a drink and a walk along the waterside. After lunch we stopped to look at a steel structure which turned out to be a pump to retrieve water from the river. Another little structured shed (environmental monitoring station) to keep an eye on the river. The river at this point was about 800mm not even a metre deep. The bank had a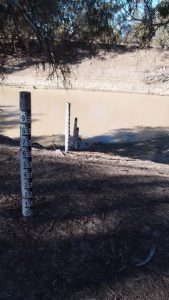 wet patch on the ground about 300mm foot high indicating there had recently been more water in the river. Further down the road we came across another dry lake on the right. At the sheep and cow crossing, a whole lot of sheep and goats went galloping across the road in front of Rob. Then we crossed an airstrip, just as well there were no planes (sneaky landing).
At Packers Crossing there was a sign saying no diving, no swimming, no fishing and no boating.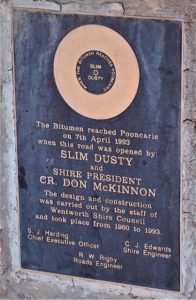 We turned right onto Tandou Road to Menindee absolutely no water in the creek and there were two Water Board trucks on the creek bed. Stopped along the way to take photos of structures poking up from the ground in dam like structures, which probably should have had water in them. Continued our trip where we spotted emus and kangaroos along the way but at Lake Cawndilla there was no sign of water.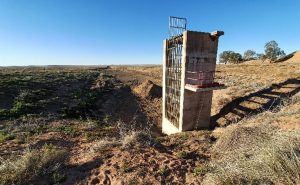 We checked out one campsite overlooking Lake Menindee but decided against staying there as it looked so desolate and ended up camping at Copi Hollows Camping Ground right alongside the lake between Menindee Lake and Pamamaroo Lake, a very pretty spot. We stayed here for two nights.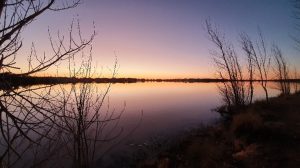 17.7.20
The next day heading out to have a look at historical Kinchega Woolshed,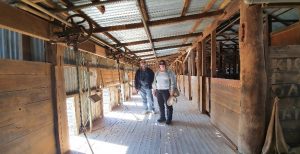 the Visitors Centre, Shearers Quarters and Rangers Office in Kinchega National Park. Another glorious, sunny day. It was very interesting to still see all the old equipment and tools on show.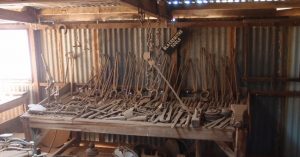 Now headed off to River Drive alongside the Darling River. River Drive is 27km of winding road and there are 34 camping sites located alongside this scenic drive. There was a plaque placed on one of the trees indicating 1976 flood level which was quite amazing on the riverbank. We stopped further alongside the lake to explore large trees showing their roots because of the soil erosion. We came across the remains of the paddle steamer PS Providence which exploded at this location in 1872.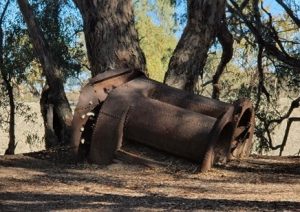 Only the boiler was left on the bank. We found another tree displaying 1976 flood level, 1983-1984 flood level and 2011 flood level. 2011 being the lowest of the three and 1976 being the highest.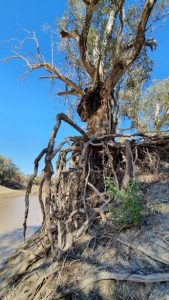 We had lunch at a picnic spot by the water and spotted a pelican and finches. Our next stop was the old Kinchega Homestead. The homestead was cleverly located between the Billabong and the Darling River. You get an idea how they would have lived and survived in those days. There was plenty of water flowing over Weir 32.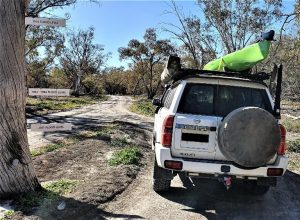 Flood levels 1976, 1983, 2011
We discovered Morton Boulka picnic area where no camping was allowed and we went for a short walk across the dry creek beds.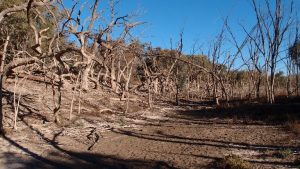 National Parks had closed some of the other roads we were hoping to drive, so we headed back into Menindee for some essentials. Went back to camp, had dinner and went to bed.

18.7.20
Left the campsite heading for Tilpa and on our way stopped at the Menindee Lakes Dam Wall and interconnecting channel between Lake Menindee and Lake Pamamaroo taking photos and the train line. While we were there, we saw a goods train come through. We spoke with Neil Flower, TRAX Chaplin who was enquiring on how we were going. Then, we had planned to travel from Menindee to Wilcannia on the western side of the Darling but found out the road was closed. The last update was done on Tuesday 14.7.20, so now we had to travel on the east side, crossing the Darling River. We went on back through Menindee and turned left onto the Wilcannia – Menindee east side road. I noticed the Old Mission Road was also closed.
Rob told us about an incoming vehicle coming but little did we know there were two young cows lying on the road in the shade. Rob had to wait until they moved off the road. Rob noticed a track right alongside the lake wetlands and went off the road to see the water at a closer view. We were driving on top of a levee which we found later was not the right thing to do.
It was 'elevenses' and we stopped for morning tea. We continued along the levee and came to a perfect morning tea/camping area. The location was 3 Mile Creek, Windale.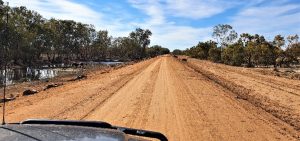 The levee continued on the other side of the creek but there was a sign "no private vehicles are allowed passed this point". It was time to get back onto the main track.
It was getting late and we pulled off the road to get some shade by some trees for lunch. We noticed a big hole in the ground not far from where Rob went off the road. At the Cobb Highway we did a kink and stayed on the east side of the Darling. East Tilpa Road was open. This saved us from going through Wilcannia to take the western route. Along the way we found a sign saying no shooting feral and bush goats farmed here.

We saw another sign, the picture looked like a sheep but the top left-hand corner read "cattle". I wish they would make up their minds.
Travelling along the road alongside Paroo Darling National Park we saw a sign Wilga Campground. We stopped here to investigate the area and had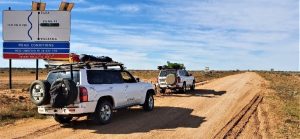 some afternoon tea. We arrived at Tilpa at 4.40pm then travelled to Killara Station where we would stay the night. We arrived there at about 5.00pm and after setting up camp went to have dinner at Tilpa Hotel.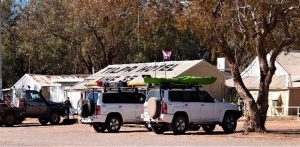 We had steak, vegetables and chips which was yummy and we didn't have to cook! When we returned Killara Station, we had some time to ourselves playing patience, knitting, reading and mobile games.
Stay tuned for Part 2 coming to TRAXION