Trip Report – Darling River Run Part 2
12-25 July 2020
Rob Drummond, TL                                     Nissan Patrol
Phillip & Linda Favaloro, TECs                   Nissan Patrol
Trip Report by Linda Favaloro
19.7.20 Killara Station, 12km out of Tilpa.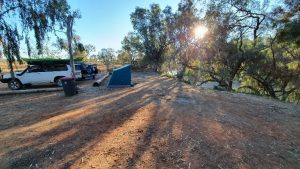 We had breakfast and packed up then we went to have a look around the place, as the owner had quite a bit of equipment around like old tractors. There were some kids swings and his own private aircraft. There were old fuel pumps and lots of old rusted farming equipment.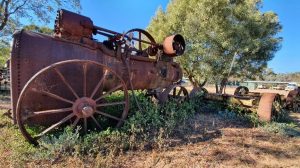 Then met the owner and her friendly dogs. After chatting for a while and paid our dues, we were on the road again. Rob and Phillip were itching to paddle on the Darling River in their kayaks, so they went to investigate a place about 4km on the river through the back of their property. The owner mentioned it would be a great area for kayaking. We had a look what we thought would be the spot and it didn't look like you could put ski boats in the water let alone kayaks. Turned around and made our way back. Along the way spotted some campers with kayaks and decided to stop and ask if they had been kayaking. They said no but were in the process of making scones over hot coals in the camp oven. Said our goodbyes and decided it was time for morning tea but no plans for scones, as we couldn't find any timber anywhere.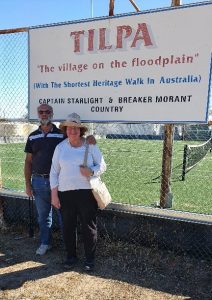 We headed back to Tilpa to refuel and to have look around the town. We went to investigate the cemetery without residents. We had great difficulty in finding the cemetery, so just went for a short walk around the Town. Heading onwards to Louth, we were about 25km out of Louth when Phillip heard a noise pulled over to have a look at his tyres. They looked good so then he moved on slowly and saw out of his side mirror, a big puff of dust and stopped. It happened just before the Stoney Creek Bridge. When we further investigate, it was the back right side wheel which was flat. Phillip removed the flat tyre and he checked out the tyre for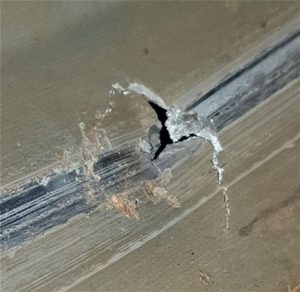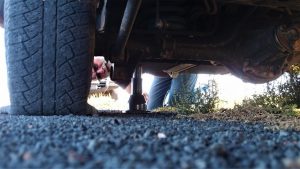 any holes. Rob said it wasn't the tyre but it was the rim that was actually punctured by a huge stone, which was wedged between the rim and the disc. The rock was stuck and grinding away at the mag wheel and when rolled off slowly, it was able to move a bit and the sharp corner pierced the rim therefore flattening the tyre. We replaced wheel and continued our trip to Louth and set up camp along the Darling River. Rob went searching for timber to start our fire so we can prepare hot coals for the scones Rob was going to make at last! Phillip and I supervised the production and provided the half pinch of salt, that was needed and any other helpful hints along the way.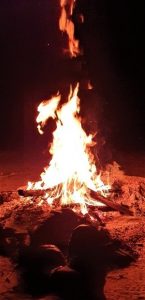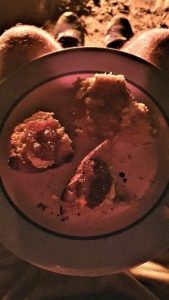 The camp oven was lined with aluminium foil and after mixing and whisking away at the mixture, it was ready to place into the camp oven. It was cut into three pieces and placed onto the coals and shovelled coals on top of the lid. After 10 minutes we went to inspect the scones and found the top stuck to the lid. They were burnt but still raw in the middle. We cooked the scones slowly for a further 30 minutes and they were ready to eat.  We buttered, homemade jam and honey them. They were cooked just right and very delicious. We then placed more logs on the fire to stay warm and toasted marshmallows. It was getting late to we went to bed ready for the next day.
20.7.20
Our next destination was to explore Gundabooka National Park, so we went south on the Louth Road toward Cobar looking for a turn off to the east but we couldn't find the road. We turned back into Louth to go the other way. We have seen so many goats along the way. We have turned right into Mulgowan Road, 32 kilometres to go. Turned left onto Ben Lemond Road, only 8km to go. We could see the other track, the one we couldn't find on the Louth-Cobar Road, coming in from the right but had no time to explore.  We stopped to have some morning tea at 10.30am at the information bay.
Now we are going on a walk to see Aboriginal Carvings on the Rocks. It was name Mulgowan Aboriginal Heritage Site. Stopping to take photos of flowers. There were fields of purple, white and pink flowers growing everywhere.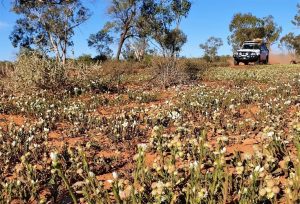 We had lunch before we went on our walk to give us more energy. The Aboriginal site was interesting to see but there were no plaques for information to give a greater appreciation of the site, which was disappointing. At the end of our walk, before we turned back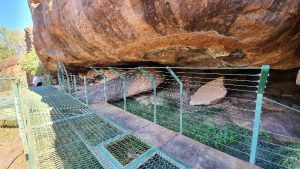 you could walk down to a little creek which was quite quaint. Then we headed back to our vehicles to explore Yanda Camping grounds within the National Park, to see how close it was to the water as shown on the map. Travelling along Yanda Track, we stopped at the Five Mile Historic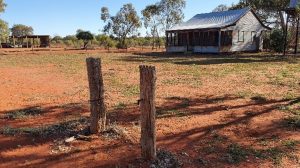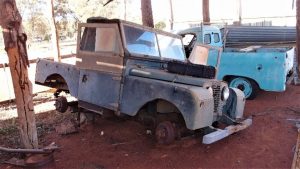 Site. There was an old house and a shed with a Landrover, not sure if the other vehicle was a Vauxhall or Vanguard, and a water tank on the left-hand side of the road. Then we continued our travels to the campsite. As it turned out the camping grounds were a long way from the water.
We are now on our way to Bourke to stay for two nights. We arrived at Kidman's Camp to book accommodation and set up our tents, we had our dinner then went to bed.
21.7.20
After breakfast, we visited the Visitor's Centre and purchased passes to visit Mt Oxley for tomorrow when on our way towards Brewarrina. Then we went into Bourke for a good cup of coffee at Bourke's Best Bites before we did our grocery shopping. Rob and Phillip walked down towards the picnic area and noticed the Historical Crossley Engine "Twin Cylinder all Fuelled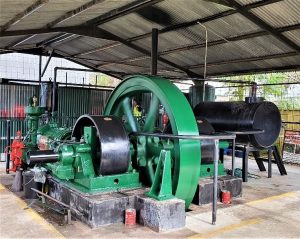 Stationary Engine" was in operation, so they went an d watched the demonstration. Rob said the times that he has been to Bourke he has never witnessed the demonstration of the engine running. Meanwhile, I was having a look at shops that wouldn't be of interest to the men. We met up again and had a look around the town itself. Phillip also visited the National Parks Office to find out if he could purchase a National Park Yearly Pass but was unsuccessful.
Then we decided to have lunch at the picnic area, a very pretty spot by the water. We were going to visit Back of Bourke information centre but thought it was too costly to go in for the time available. We went back to our campsite and Rob and Phillip changed into their swimmers and went kayaking. They found a perfect area just before the two bridges where there was a boat ramp to launch their kayaks. After they paddled the 12km round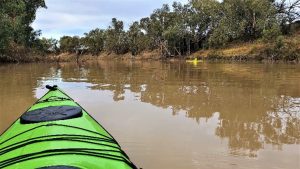 trip down to Bourke and back. They went as far as the water alongside the picnic area located in Bourke, the location of the old wharf, and turned around. I stayed and relaxed at the campsite. When they came back it was time for dinner and we sat around chatting for a while then went to bed.
22.7.20
Packed up and travelling east towards Mt Oxley for morning tea. We turned right into Tarcoon Road, towards Mt Oxley, two sheep were outside the

fence line. The road until we reached the bottom of the mountain was badly corrugated for about 11 kilometres. You could say it was worse than some parts of our Simpson Desert Trip last July 2019. Rob placed the go pro on his car to picture the view until arriving at the top of Mt. Oxley. As we were proceeding up the mountain, we saw most spectacular views and at the top you could see magnificent views for miles. The sun had come out and the winds had eased. The height at the top of the mountain was 293 metres. Rob was having fun with his drone and getting great pictures.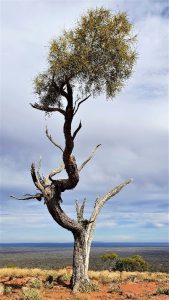 It was well set up with picnic tables and toilets. It was time for something hot to drink as it was cold and windy. Then we continued to travel onwards to our next destination.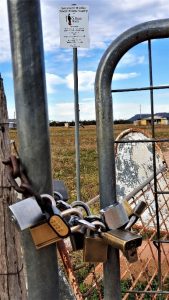 After shutting and locking the gate using the padlock chain at the end of our mountain climb, we turned right onto Oxley Road making our way to Brewarrina. Then turned left onto Charlton Road. We travelled on the bridge over the Bogan River. We found a nice shady spot on the left side of the road and had lunch. We spotted numerous paddy melons yellow and green ones on either side of the road. Phillip had fun playing lawn paddy melon bowls, and as we continued our trip, Phillip and Rob succeeded to squash a melon or two as we headed off.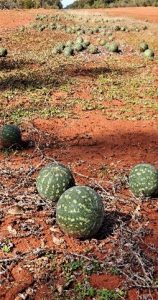 We arrived at Brewarrina and went to the information centre to find out the nearest accommodation, boat ramps for kayaks and the famous fish traps. We set up camp at "Beds on the Barwon" right alongside Barwon River. It was a peaceful place. They also have four riverside cabins overlooking the river, but they were all booked out. Looks like another night in the tents. Tomorrow we will go on the Brewarrina Aboriginal Cultural Museum guided tour which includes an informative guided tour of the Ngunnhu (fish traps) which are estimated at 40,000 years old.
23.7.20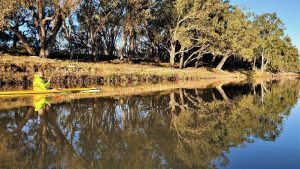 Rob and Phillip left the campsite at 7.00am to go kayaking at 4-mile camping reserve, then went towards the weir back in town. They were on a time limit and didn't quite make it to the weir, so they turned around and came back.
We travelled back into town for a 11.00am Brewarrina Aboriginal Cultural Museum guided walking tours of the Ngunnhu and the museum exhibit. The tour guide shared stories from an indigenous perspective through storytelling, actually explaining the fish traps and how they worked.

Then we had lunch along the river, not far from the Weir. Now we are heading to Walgett. We stopped at Walgett not only to fuel up but have a look at a painted mural of galahs on a silo which was amazing.
W
e then headed to Baradine and arrived at 4.30pm at Camp Cyprus. We stayed in a cabin with 2 rooms with their own bathrooms and a shared kitchen area. There were also 2 other bedrooms with their own bathroom. We had dinner and went to bed for an early start in the morning.
24.7.20
We enjoyed the views on our way to Warrumbungle National Park stopping and taking photos of the mountains in the distance. We visited the information centre and Phillip finally received his 2-year National Parks Pass, which made him very happy. He couldn't do the senior pass online and he left it too late to send the form by mail before we left home.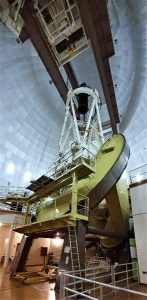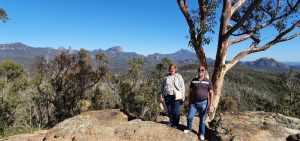 We went to the Whitegum Lookout which was spectacular and took photos. Then we visited the Siding Spring Observatory, where we investigated information about fascinating facts and a close up look at the telescope. From there we went to Coolah and stopped there for coffee and lunch, then proceeded to Mudgee to catch up with Dianne, Eric and Laura.
Rob went home that day and Phillip and I stayed there for 2 days. We left on Sunday for home.
We had a fantastic trip. We saw beautiful landscapes and discovered more of the Australian outback. Rob, we are looking forward to next year's trip.