Welcome
Our Club is for all those who like to enjoy the beauty of God's creation, and share fellowship with others!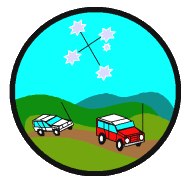 TRAX 4WD Fellowship Club arrange outings during the course of the year (at least one every two months) to some of the most beautiful and interesting places around New South Wales and further afield on special, longer trips.
Most outings occur on Saturdays with the odd weekend excursion (and don't despair if you don't have a 4WD vehicle. If you would like to come on any of our trips, let us know!. We always have spare seats and would be glad to have you along!!!
TRAX 4WD Fellowship also offer lessons in:
4WD driver training (Basic, Intermediate and Advanced)
Map-reading and navigation
GPS reading and navigation
Vehicle Maintenance.
TRAX 4WD Fellowship membership currently costs only $50.00 per year (plus Joining Fee – $10.00) which includes subscription to the TRAXION monthly magazine. Included FREE is a whole circle of new friends!!!
TRAX 4WD Fellowship will introduce you some of the most interesting and beautiful places you'll ever see!

TRAX 4WD Fellowship is also affiliated with the Four Wheel Drive NSW & ACT association which also entitles you to benefits such as cheaper insurance premiums.