CROSSTRAX!
One man's view about the
things that really matter….
This month….
You don't realise how much you need it, until you need it! Part 2
Then, oh boy, it is great to have! Part 2. (Started last month, concludes this, well maybe  next month – probably!)
Firstly let me thank those of you who contacted me after reading last month's article. I have never had such a god response!
Now let me get back to the subject of HF Radios and how their use can be like prayer.
One important thing about HF Radio is that it travels more or less in a straight line. Often that is straight up – which is good as it then can bounce straight off the Ionosphere Anyway, look at the first picture below.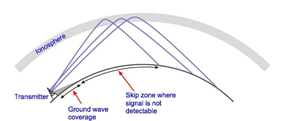 Prayer is like that. When we pray, God hears us. We don't have to worry about our signal being intercepted by other beings or going astray on the way there. It goes straight to God.
It's good to know that since so often we get a bad attack of the 'doubts' because we think that we have to be 'worthy' first before God will hear us. If that was the case no prayer would ever be heard! But like I said last month there are some important things to remember.
1. God knows exactly what you need.
2. Don't ask for more than what you need otherwise you will fall into the trap of asking for 'wants', which could mean you
asking for selfish things, outside of God's will.
3. Trust Him to know exactly what you need. Then when the answer comes it will just what you need. Perfectly.
4. William Carey is known as the 'father of the modern missionary movement. A great man. He had a great life motto:
' Attempt great things for God, Expect great things from God.' To that however I have added an extra bit;' Ask great things
from God.'
5. Answering your possible questions: * Does God always hear? Yep! * Does God always give us what we want? Nope! Sometimes He says I've heard what you have asked, but If I gave it to you it may not be the best for you. You think it is but I can see that it is not good for you. Just wait, I have a better solution.
Now back to my 2007 problem with blown car engine. Using the HF Radio was a real 'Gamechanger'. But it didn't automatically change things. There were other things that Could only have been in god's control and over which He presided.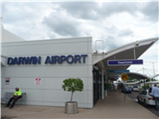 Like: When I called Qantas in Darwin there just 3 seats available on the first flight that we could get to that day. Namely the 1:30am flight to Sydney. We needed 3 seats
(We had two friends with us and now with my car undriveable and a caravan, and a trailer (on daughter Jenny's car) to get back to Sydney it needed a lot of things to fall into place. They did.
Like: Jane, my wife, lives off intravenous feeding and needs her feeding bags to be kept refrigerated. (Darwin is a hot place and stuff that needs to be refrigerated can't just be left at room temp. Daughter Jenny, a nurse, had a nursing friend in Darwin who not only had contacts with the Red Cross but was able to secure some special 'cooler boxes' to store the bags in while waiting for and during the flight to Sydney.
Like: Jenny's friend also putting her up for the night after she had driven from Katherine to Darwin.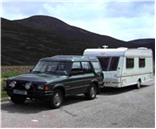 Like: Everything else that we needed fell into place. We had a vehicle to get my caravan back to Sydney (Jenny and I came back with it. My car was and Jenny's trailer roadfreighted back to Sydney because of my NRMA gold membership.
Like: Son Stephen being able to pick up Jane and our friends at Sydney airport. Home in time for 'breakfast'. Now these are just a few of the things that 'happened'. Happened? No, things that when we look to our heavenly Father fall into place because He cares for us.
I was going to finish this CROSSTRAX article with this edition, but suddenly I remembered that this is our Christmas edition and that about 6 years ago I sent out a Christmas card to all the parishioners of the Church where I had been the locums minister for most of that year. (You are never allowed to retire!) I put into that emailed card a story that had come my way that year about prayer. It is, I have been assured, a true story, so I am going to include it in this month's (and probably next month's as well), CROSSTRAX. (Will the Editor ever forgive me for such a long article?)
Anyway , Here goes….
I wanted to share with you a couple of observations about prayer and praying that I have found helpful over the many years that I have been continually facing operations and medical treatment. The first is a story that I picked up about a mother, a deserted wife actually, from Indiana in the USA.
This lady wrote….
"In September 1960, I woke up one morning with six hungry children and just 75 cents in my pocket. Their father was gone. Their Dad had never been much more than a presence they feared. Whenever they heard his tyres crunch on the gravel driveway they would scramble to hide under their beds. He did manage to leave $15 a week to buy groceries. Now that he had decided to leave, there would be no more beatings, but no food either. If there was a welfare system in effect in southern Indiana at that time, I certainly knew nothing about it.
I scrubbed the kids until they looked brand new and then put on my best homemade dress, loaded them into the rusty old 51 Chevy and drove off to find a job. The seven of us went to every factory, store and restaurant in our small town. No result.
The kids stayed crammed into the car and tried to be quiet while I tried to convince who ever would listen that I was willing to learn or do anything. I had to have a job.
Still no luck. The last place we went to, just a few miles out of town, was an old Root Beer Barrel drive-in, that had been converted to a truck stop. It was called the Big Wheel. An old lady named Granny owned the place and she peeked out of the window from time to time at all those kids. She needed someone on the graveyard shift, 11 at night until seven in the morning. She paid 65 cents an hour, and I could start that night. I raced home and called the teenager down the street that baby-sat for people.
I bargained with her to come and sleep on my sofa for a dollar a night. She could arrive with her pyjamas on and the kids would already be asleep. This seemed like a good arrangement to her, so we made a deal. That night when the little ones and I knelt to say our prayers, we all thanked God for finding Mommy a job. And so I started at the Big Wheel. When I got home in the mornings I woke the baby-sitter up and sent her home with one dollar of my tip money – fully half of what I averaged every night. As the weeks went by, heating bills added a strain to my meagre wage.
The tyres on the old Chevy had the consistency of penny balloons and began to leak. I had to fill them with air on the way to
work and again every morning before I could go home. One bleak fall morning, I dragged myself to the car to go home and found four tyres in the back seat. New tyres! There was no note, no nothing, just those beautiful brand new tyres.
Had God sent His angels to take up residence in Indiana? I wondered. I made a deal with the local service station. In exchange
for his mounting the new tyres, I would clean up his office. I remember it took me a lot longer to scrub his floor than it did for him to do the tyres.
I was now working six nights instead of five and it still wasn't enough. Christmas was coming and I knew there would be no money for gifts for the kids. I found a can of red paint and started repairing and painting some old toys. Then I hid them in the basement so there would be something for the children on Christmas morning. Clothes were a worry too. I was sewing patches on top of patches on the boy's pants and soon they would be too far gone to repair.
On Christmas Eve the usual customers were drinking coffee in the Big Wheel. There were the truckers, Les, Frank, and Jim, and a state trooper named Joe. A few musicians were hanging around after a gig at the Legion and were dropping nickels in the pinball machine. The regulars all just sat around and talked through the wee hours of the morning and then left to get home before the sun came up.
When it was time for me to go home at seven o'clock on Christmas morning, to my amazement, my old battered Chevy was filled full to the top with boxes of all shapes and sizes. I quickly opened the driver's side door, crawled inside and kneeled in the front facing the back seat. Reaching back, I pulled off the lid of the top box. Inside was a whole case of little blue jeans, sizes 2-10! I looked inside another box: It was full of shirts to go with the jeans. Then I peeked inside some of the other boxes. There was candy and nuts and bananas and bags of groceries. There was an enormous ham for baking, and canned vegetables and potatoes. There was pudding and Jell-O and cookies, pie filling and flour. There was whole bag of laundry supplies and cleaning items.
And there were five toy trucks and one beautiful little doll.
As I drove back through empty streets as the sun slowly rose on the most amazing Christmas Day of my life, I was sobbing with gratitude. And I will never forget the joy on the faces of my little ones that precious morning.
Yes, there were angels in Indiana that long-ago December. And they all hung out at the Big Wheel truck stop. God had heard our prayers in a way that I would not have thought possible."
THE POWER OF PRAYER. I believe that God only gives three answers to prayer:
1. 'Yes!'
2. 'Not yet.'
3. 'I have something better in mind.'
God is still on the throne, and the devil is a liar. You'd better believe it!
I will conclude this CROSSTRAX article next month ! (I promise! – maybe!!!!!)
May you all be greatly blessed over this Christmas period by coming to know the One who came to give his life so that you might really gain yours.

Neil Flower
TRAX Chaplain. (neilflower@bigpond.com) or 0408 216 401.