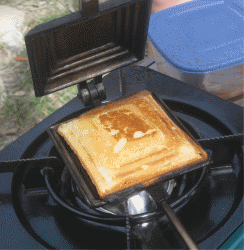 You may not have a jaffle iron, but maybe this will entice you into buying one next time you see one…
Ingredients:
2 slices of bread
2 Tbsp pizza sauce (it comes in sachets)
1 slice of mozzarella cheese
4 pepperoni slices (or other sliced meat if preferred)
1 Tbsp diced onion
1 Tbsp diced mushroom
Method:
Butter each slice of bread on one side.  Place the first piece, butter side down, in the jaffle iron.  Spread with pizza sauce.  Fill with onions and mushrooms.  Top with cheese and pepperoni.  Cover with second slice of bread (butter side up).
Carefully close jaffle iron and place in hot coals until you can't stand to wait any longer!
VERY carefully open jaffle iron, and tip jaffle onto a plate – wait until cooled a little to eat (unless you don't mind a burned tongue and seared fingers!)
Serves 1.