Trip Report – Burralow Creek
27th June 2020
The meeting place was Macquarie Park Windsor.
Those in attendance:
Ron Paton (TL) & Neil Flower          Forester
Math Smith (2IC)                                Discovery
Will Smith                                            Honda Bike
Paul Batt                                               Mazda BT50
Norman & Olivia Shin                       Nissan Patrol
Beatson Family                                   Nissan Patrol
Liney Family                                       Forester
Ron Owen                                            Pajero
Phillip & Linda Favaloro                  Nissan Patrol
The weather was cold with rain threatening. In fact it was raining lightly whilst we waited for all to arrive. It was obvious that most of us had sourced our breakfasts from MacDonald's. Our friends from Mudgee were on their way and running a little late, but not as late as 3 of us were to become. We headed off toward the turn off to Ebenezer but continued along the Putty Road at which time I thought that Burralow Creek was not the destination I had in mind geographically as I hadn't been there for many years.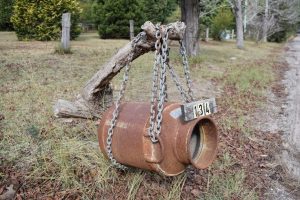 We made our way across to Bells Line of Road exiting below Kurrajong, turning right getting into the climb. We proceeded through Kurrajong into Upper Kurrajong which is where the wheels fell off for me and two others. I think that entering Bells Line of Road by necessity created a split in our convoy. From the beginning I was in front of tail-end Charlie with two other of our vehicles directly in front of me. At Upper Kurrajong, tail-end Charlie peeled off to wait for our friends from Mudgee which was organised and validated on the radio. I had no qualms watching him exit and continued the game of 3 of us playing follow the leader, or so we thought, as we had not noticed any other of our convoy exit ahead of us.
I have to mention at this stage that my radio had difficulty receiving calls which were coming through as bursts of static. I put this down to the short aerial I had mounted to allow me to enter parking stations and figured it would suffice for convoy communications. We were up past the Bilpin Apple Bowl when I encountered three static bursts on my radio followed by three calls on my mobile which I couldn't answer without stopping. This meant that the two vehicles ahead kept going. I found out we had overshot the turn off as had tail-end Charlie.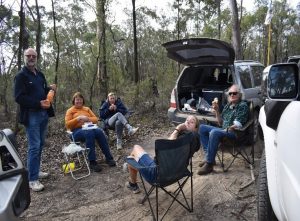 I confirmed I would chase down the two vehicles ahead and took off because the gap between us had now extended. To cut a long story short we ended up u-turning and made our way back to Kurrajong Heights where we were reunited with tail-end Charlie soon to be followed by our friends from Mudgee. We drove down to the creek, had morning tea on the flat and I changed my aerial. We drove through the park exiting on to Bells Line of Road just below the Bilpin Apple Bowl, turned west and after a brief drive, turned right into Mountain Lagoon Road looking for a specific track off the LHS. What was looked for was not found despite the efforts of Will Smith who had brought his latest trail bike acquisition with him and was of considerable help in being able to quickly scout these much more quickly than was possible in a 4wd vehicle. Unfortunately his chain came off and was quickly replaced with some assistance. It was decided we would lunch there.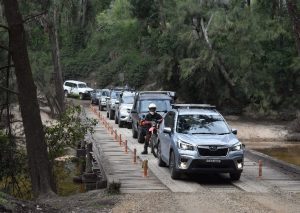 After leaving, the opportunity was taken for a photo shoot of all the vehicles on the old timber bridge across the Colo River. Now whilst this seemed a good idea, I have no idea of the age of the bridge which has no supports above road level and as we loaded it up with our cars I couldn't help thinking about the sign that said maximum weight 15 ton. I am sure our collective weight was more than that. But all is well that ends well and the trip turned into a very leisurely and pleasant experience with the weather holding firm.
Our Trip Leader Ron Paton introduced the novelty of issuing prizes at the end for certain tasks undertaken during the course of the trip such as the most garbage collected amongst others.
Great effort Ron P when is the next one?
Ron Owen