CROSSTRAX!
One man's view about the
things that really matter….
This month….
When the Darling River was almost dry,
and you could walk across it!
Most of this month's edition has been filled with articles about our recent TRAX trip 'The Darling River Run' from which our intrepid travellers have only just returned. A great trip! (Wish I could have made it too!) You can, and will, read all about it in some of the articles in his edition.
Nevertheless, it reminds me of another 'River Run' – a time when the people of Israel had come to the banks of the Jordan River only to find that it was in flood – which it generally did at that time of the year1. Too high to ford or walk across would have been the cry of many. But the God who had told Joshua (and Moses before him) to cross had given to these two men many times demonstrations of His power. Joshua, as Moses' successor called the leaders of the people together and said 'Get ready, we are going across'. I'm sure that you have read or head of this narrative many times, but there's a couple of 'opposite twists' that bear thinking about.
Some of our TRAX Travellers on this recent trip have told me that although the Darling was flowing, it was really little more than a trickle. In other words, people could have walked across it and maybe even driven across it, the level was so low. (The drought still has the far west in its grip – pray that those parched areas will get substantial rain soon.)
Now this writer has seen the Darling at the other extreme – in real flood times when the water's edge was some kilometres from the normal edge or banks. Many of you readers will have heard stories (generally true) of the 'old' days when paddle steamers could travel almost the whole length of the river as they picked up the wool clip and carried the bales down to one of the various inland ports to be off loaded onto trains to go to the sea ports like Melbourne or Adelaide. Sometimes these steamers would travel a long way from the normal river jetties even almost up to some of the shearing sheds.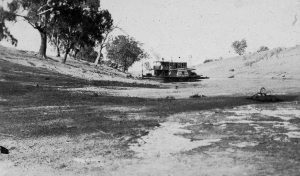 This was a risky business however because on more than one occasion the steamers 'grounded' as they had been slightly overloaded and the whole load was not able to unloaded until the water receded and it had to wait for many months before it could be moved. There have even been reports of boats stranded so long that they never floated again because they flood waters that they came in on never rose to that level again. The remains of a couple of such strandings can still be seen today.
But our people found the 'poor old Darling' only just flowing. Now, what has this got to do with a 'CROSSTRAX' article I here you saying? Just this. It took a great amount of courage and faith on the part of Joshua to carry out God's command to take the people across the river and into the Promised Land.
But he did and they did!
The river was crossed by multi-foot-drive and no one getting bogged either despite the river being in flood. Everything and everyone got across dry shod. (You can read about this in the Old Testament of the Bible; book of Joshua chapters 3 & 4).
The issue is really this. You'll never get to know God until you step out in faith following His revealed words and commands in the Scriptures. I have had countless discussions with people who say that 'they don't believe' this or that thing about God, but when I've probed further I find that invariably they have never taken God at His word and tried to come to Him on His terms or were never willing to take that step of faith and put him to the test.
Jesus said this "Whoever has my commands and obeys them, he is the one who loves me. He who loves me will be loved by my Father, and I too will love him and make myself known and real to him" John 14:21.
Not a bad challenge. What river faces you? The most important one to try to cross first is the River of Doubt. Jesus is ready and willing to help you get across that one – if you are willing to ask Him.
More next month.
Neil Flower
TRAX Chaplain
 1 Joshua 3:15-16