Mt Airly 'Recce'
Saturday 13th April 2019

It was an early start. We were scheduled to meet at the rest area in the centre of the Capertee CBD (all 6 buildings of it!) for a 9:15am leave. And they did it! Everyone on time and rearin' to go.
10 vehicles with drivers of course – and passengers!
Neil Flower (Trip Leader) with passengers Matt. Smith & Jon Beuman Land Rover Disco S2
Phillip Favaloro with Linda Nissan Patrol
Rob Drummond with Lily & Kira Nissan Patrol
Steve Taylor with Julie & Will Nissan Navarra
Francois DaCosta with Christen Toyota Hilux
Shane Beatson with Joel Nissan Patrol
Bob Creelman with Will Smith Land Rover Perentie
Eric Liney Toyota Ute: the farmer's friend!
Neil Kitchener Nissan Patrol
Peter Davies with Belinda Toyota Prado
This was meant to be a 'Recce' trip, and not one to be enjoyed. (Well, not that much, anyway. How can you go bush and not enjoy it?) So, that mean old cow, 'er, bull, the trip leader, made sure that we only did just enough of 2 – 3 trips to ascertain that we could get through when we did the 'real thing'. This took the whole day anyway so that both Drivers and Vehicles were kept on the move.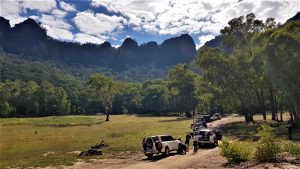 Great scenery. In my opinion the Mt. Airly area has probably some of the finest scenery in the whole length of the Gt. Dividing Range (Far N.Q. to far Sth. of Victoria.)
As well as being a 'Recce' trip, part of the aim was to get some 'new blood' doing trip leading, so as we led off in both the morning and afternoon runs, we had some new talent taking the lead. (Well done fellas, you've qualified to lead your own trips now.)
The morning was taken up doing the "Airlie Turrets" (No, this is not a spelling error, maps show that part of the area is known as Mt. Airly while the eastern part of the ridge is known as the "Airlie Turrets".) Great track, quite easy really but quite spectacular, especially when you got to the top of 'Gunsight Pass'. Lunch was taken near the old 'Diamond Mine' (Zircon so I'm told) then we moved off to test out part of the track that leads towards Genowlan (pronounced 'Jenolan') Point and 'The Grotto'.


After a bit of shunting (Bob's vehicle managed to break a front axle which meant stating with him till we got him down off the Range and back on the road to Sydney) we headed slightly west to the track that led into the 'Rock Bottoms' area and the track now known as the 'Tramway trail'. Again, that mean lair of a trip leader pulled the plug half way along so that we couldn't say when the 'real' trip came up, "I've been there, done that, so I won't bother going". This trip is full of old ruins of Miners cottages and Mine workings with an abandoned 'over the ridge cableway'. Come on this trip when it is advertised – you won't regret it, fantastic things to see.
Well, that's it. A great day, not too hard, good fellowship together, covered a fair bit of ground, and surveyed about 3 future trips. Worth doing.