CROSSTRAX!
One man's view about the
things that really matter….
This month….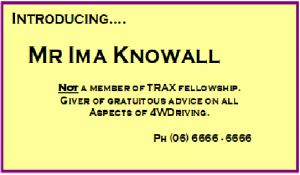 For your collection…. Some people collect business cards, so this issue I thought that I'd give you another one for your collection….
Well, he may not be a TRAX member, but such people are a general pain in the neck to whatever club that they might join.
"I've been driving in all sorts of weather and in all conditions for the past 30 odd years, and there is very little that I don't know about the subject – so no thanks, I won't be attending a driver training course for 4WDing…."
So spoke a very self -opinionated (non-TRAX – thankfully!), 4WD owner to me a couple of years ago when I invited him to come along and learn how to handle his new vehicle with safety and confidence. Well, it was not so much spoken as spat out with venom as if the whole idea was demeaning and an insult. He knew; he was experienced; he'd known all the pitfalls; etc, etc. hadn't he driven all sorts of vehicles (2WD's), in all kinds of configurations and conditions? Etc, etc….
It had been a nicely maintained Toyota Land Cruiser Station Wagon when he had bought it home from the sales office – no rust, no off-road work, no towing of horse floats, no dents or dings in the bodywork – just a really nicely maintained 3 year old, petrol Cruiser that anyone would have loved to have owned.
At least it was then. I saw it about 6 months later. Almost unrecognisable. A fine piece of machinery battered, dented and only fit for the wrecking yard. When I inquired as to 'why' and 'how', a mutual acquaintance 'told me the old, old story'…. A holiday trip, a real challenge of a steep and slippery downhill slope, no knowledge about engaging the freewheeling hubs, brakes used on the steep descent, wheel lock-up and no traction, so no steering, ………no hope!
Our friend Ima and his family at least survived (only just), which is more than could be said for his $70,000 investment.
Now for the point of this story. It's not written so as to drum up applications for our driver training program, (although I hope that every member will be willing to do both the basic and sand driving courses), no, this is a 'CROSSTRAX' article with a different emphasis. The point is really a parable about life taken from my 4WD Bush Driving log.
You see it illustrates the very simple and humbling thing that Jesus taught when he said that unless a person becomes like a little child (that is, willing to learn, humble and admitting a need), then they cannot enter God's kingdom of Heaven. No matter how much experience we've had in our present life, none of this is really very useful in being a Christian. And that's where so people come unstuck. They think they know more than their Maker and Designer and try to run their lives according to their experiences, accumulated practices and ideas. And it doesn't work.
The difference between being just an ordinary 'happy pagan' Australian who thinks that being a Christian is just following a set of fixed rules and a real Christian is like the difference between a 1922 'Stanley Steamer' and a 2020 Range Rover. Yeah, both have 4 wheels, 4 seats, a steering wheel and a dashboard, but that's about where the similarity ends. Range Rovers run on Petrol or (now Diesel and next year a hybrid electric model will be released), Stanleys need water in the boiler (try that in the Rangie's tank!), and kerosene or even coal in the fire grate. Forget it!
But it's no more stupid than the person who says that they can live like a Christian by using their own ideas. Jesus said " Unless a man is born again, he will never get into the kingdom of God" – now that can be hard to understand unless you let Jesus explain or teach the meaning of that to you. Jesus also said "Learn from Me". Yep, there's no better teacher than Jesus.
Well about our friend 'Ima'. Don't be a smart aleck like him. When it comes to understanding about real living, you have to start all over again. But this time use the lesson book. Actually, it's free, and I have a number of them to give away to anyone who requests one. Just contact me using the contact numbers on the back cover. Well. That's it for another issue. Hey, don't forget our next driver training days – they will be both the Basic Driving Course and an Advanced Driving and Recovery Course. Dates and details in the next issue of TRAXION.
See you on the TRAX,
Neil Flower
TRAX Chaplain