TripReport – Jellore – 3 Valleys
27 May 2021
Neil Flower (RL) and Matt Smith
Joe Cilia
Phillip Favaloro and Ron Paton
Roger Riley
Discovery
Isuzu DMax
Patrol
Discovery
I met up with Phillip in Cherrybrook at 0645, a very cool, cloudless morning. We departed Cherrybrook at 0655 for Mittagong. The colours of autumn were clearly evident all the way.
The trip to Mittagong was uneventful. 121 kilometres to here. At Mittagong we veered to the right of the War memorial clock tower, and after 100 meters we turned right into Queen Street and proceeded 300 meters down to Lake Alexandria Park. The park has good quality toilets, there is a good quality children's play area. The park is quite picturesque with ducks and birds abounding. The lake has a column of water shooting up from the centre of the lake. There is a walkway around the lake. There is plenty of parking. It took us two hours to get here. 5 degrees, a bit cool. Bring your snow parker, gloves and beanie just in case.
We met up with Neil F, Matt, Joe and Roger.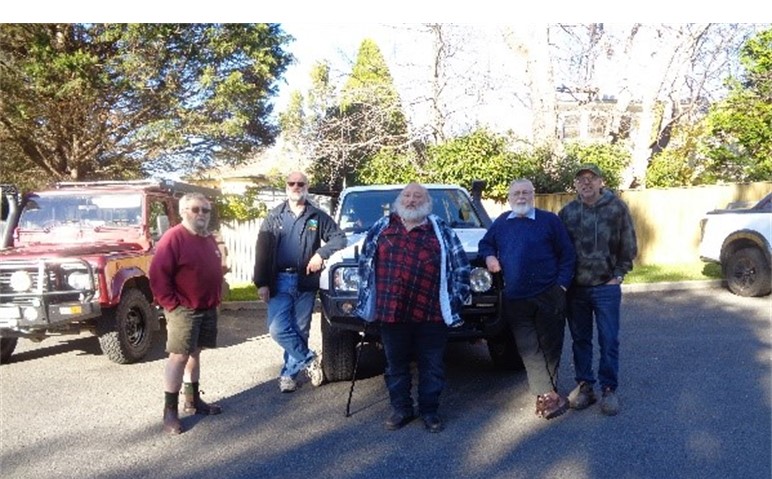 Neil handed out maps of the proposed trip area, and we discussed plans for the day.
We proceed out to the Jellore state forest area, as this was a Recce, we discovered a few dead ends and a lot of side tracked blocked off.
The tracks are a bit rough in places and will be good to try out your abilities and brush up on your four-wheel drive skills.
We passed Mount Jellore on our left – worth a photo, we stopped at the end of a long track looking down about 200 meters Into Jellore Creek and Nattai Ridge Junction (a good place for a few photos.) Watch your step it is a long way down! We had lunch here.
On the way back out we cleared a tree from across the track, about 600 millimetres in diameter, with Chain saws, Joe's winch, and muscle power, a good effort by all. We also blocked off the side track around the area to prevent further damage.
I could have included all the times taken and distances travelled but as this was a Recce trip, it won't be the same as we will be eliminating all the "dead ends" to make it a much better day for you. We did 289 kilometres on the day.
There are a couple more trees to be cut and moved off the track, so please bring your chain saws and the appropriate safety gear and brush up on your skills – remember safety first!
Please Reply to Phillip Favaloro at trips@trax.org.au and let him know you are coming including how many people and who are in your group.
It promises to be a great day on Saturday 5th June.
Ron Paton
NOTE: Since the recce it has been found that NPWS had placed signage regarding access being open, six weeks early! Great for the recce, but no good for the club trip.
So, the club trip has now been postponed until restrictions are removed and we can get to where we want to go and enjoy the great outdoors with TRAX.