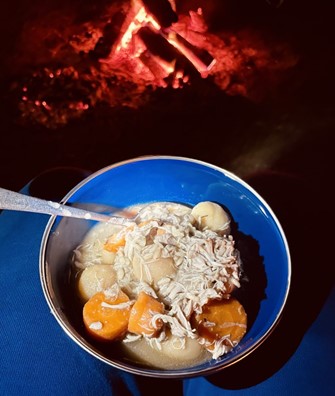 Easy, but tasty, chicken casserole from your camp oven
Serves 2
1 onion
1 clove of garlic, or more to taste
250 gms boneless thigh fillets
1 bay leaf
1 teaspoons thyme leaves
500 mls chicken stock
½ can potatoes, or fresh if you have them
2 carrots
? add any other veggies you like
1 cup rice
Olive oil
Chop up the onion and garlic and place into a hot camp oven to which you've already added some olive oil.
Fry the onions and garlic until the onions are soft, then add the chicken, searing each side.
Once the chicken is sealed, add the stock, veggies, thyme leaves and bay leaf. Stir it all up and leave to simmer for 45 minutes or so.
Add the rice and leave to simmer for a minimum of 20 minutes. You might like to check the level of liquid in the camp oven periodically, and if appears to be too low, add some water.
When it's ready, you should have a thick tasty sauce. Remove the bay leaf, stir, breaking up the chicken.
Serve and enjoy!