Trip Report – Belanglo
Saturday, 19th February 2022
We met at the Pheasants Nest Service Centre 9am. Five vehicles. Sally and Jane, Simon, Ralph, Alex and Shane, Kylie, Olivia, Joel and Isabel Beatson.
We had a quick chat and, as we had all arrived, we decided to head to the starting point.
At Gordon VC Rest Area, we met the final two vehicle's here. Matt in his Disco and Will Smith on his Suzuki Dr400.
Here Matt prayed for the group and we set off into the forest. Proceeded up Belanglo Road then turned into Daley's Road and drove through Daley's clearing. The main camp ground is a free camp which is used a lot by highway travelers.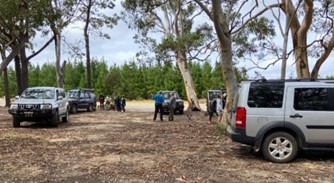 Proceeded along Daley's Road until it became closed, only half a kilometer from our turn off so we took a right and crossed the forest. We came out on the northern side of the forest. Continuing to the start of our morning section of trip, but we would do it in reverse now. It has been closed off since recce by Forestry.
We proceeded parallel to this track, checking if the two side tracks would allow access, but no luck. This put us very close to the Memorial, so we decided to go there. We pulled up in a nice shaded area for morning tea. Everyone enjoyed catching up and having our morning tea.
We then quickly went to confirm the top end of the track was closed. At least this took the group to the hidden camp ground, where two campers were happily camping, but looking worried as six vehicles and a trail bike had just turned up!
So, with no access to Miners Despair FT and the Tree Cave FT loop, we changed plans. As we had just fed ourselves, I took the group across the Forest and out to Belanglo Road. Here we headed to the afternoon track, Belanglo Plateau FT.
This track took us downhill into Longacre Creek, a nice area, then back uphill where a rock formation with a large cave and two fire places. We stopped here for photos and Will took this chance to go explore the erosion mounds and mud puddles on the motor bike. We continued this tack with an early exit. Thanks to Forestry for cutting out the last half a kilometer. With no real Fire Trails open and it being close to 1pm, it was time to head for lunch. We went to our friend Johns Farm for a relaxed lunch.
Upon going through the gates, we had cattle to move away from entrance. Then we headed up to the very large shed area for lunch.
Lunch went on till 3pm (wow! What a lunch! – Ed.), with good fellowship all round. Some people (and kids) were looking for an early day so we decided to head for our homes.
Matt prayed for us all and we exited farm.
Matt and Will stayed on to check out additional tracks but most were closed in different areas again.
It was good to be out on the tracks again and we enjoyed a day of fellowship.
Shane