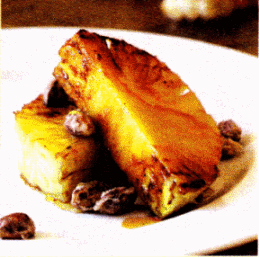 A juicy slice of pineapple is a stand-out summer treat on its own and it's even more delicious brushed with honey and heated until caramelised to intensify the flavour!
Ingredients:
6 slices of pineapple, 2cm thick, peeled – tinned or fresh
½ cup of warm honey, plus extra
2-3 tablespoon of melted butter
80g of shelled pistachios
Method:
Cut slices in half and place in a single layer in a shallow dish.  Pour honey over pineapple, turn to coat.  Heat barbecue to medium, brush with butter and cook pineapple slices for about 2 minutes each side until golden brown.
To serve:
Place 2 pieces of pineapple on each plate, drizzle with a little extra honey and sprinkle with pistachios
Serves 6