CROSSTRAX!
One man's view
about the things
that really matter….
Stories that may
be strange, yet true,
from the Chaplain's Travel Log….
So, you think that Christmas is over for another year?
Think again!
My favourite quote about Christmas comes from 'the Grinch.'
And the Grinch, with his grinch-feet ice-cold in the snow,
Stood puzzling and puzzling: "How could it be so?"
"It came without ribbons! It came without tags!"
"It came without packages, boxes or bags!"
And he puzzled three hours, till his puzzler was sore.
Then the Grinch thought of something he hadn't before!
"Maybe Christmas," he thought, "doesn't come from a store."
"Maybe Christmas…perhaps…means a little bit more!"
Well, did the grinch get it right?
Think about this: It's Boxing Day and there is a big rush on the stores for 'post-Christmas' bargains. Crowds wait (sometimes very impatiently) at the doors.
8:45 am (or so) the doors open and the mad rush for the 'bargains' begins.
Now spare a thought for the poor old Bakery dept. After all the eating that has characterised the day before, one would think that that there would be nothing to attract the customer to that department. Wrong! Dominating the tables and counters are all types, (and in recent years) many flavours, sizes and packages of….
Hot Cross Buns!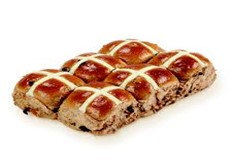 I kid you not!
If you visited your local Coles or 'Woolies' store on Boxing Day you would have seen for yourself.
'Why?' You may well ask, 'It's out of keeping with the season.'
'Hot Cross Buns are supposed to be an Easter or at least a Good Friday 'remembrance' food.'
'These stores are just hell-bent on maximising profits.' And so on.
But wait a moment. Perhaps the big supermarket chains have (unknown to them) hit upon something that most people have been missing for a long time. Why shouldn't they sell Hot Cross buns from Boxing Day onwards? Doesn't that point to the real meaning of Christmas?
What is the real meaning of Christmas?
Look at the Biblical scheme of things. Christmas today has become an isolated event from its place in God's plan of salvation.
When we look at God's plan, we see a whole chain of inextricably joined events. Take one away and the rest of the chain becomes meaningless. So, what have we got?
Mankind's rebellion against God ? God's continuing love for His Creation ? The beginning of the fulfilment of God's Promise: Christmas – the coming of a real human so that He could be a Saviour for Humans ? Thirty-three years of living for us ? Good Friday, the day He took the punishment for our rebellion and died for us ? Easter Day Jesus conquers death and offers eternal life to all who come to Him. All part of one activity really.
So maybe both the stores and the grinch are/were closer to the mark than most think. Christmas is not the end of the process. It is actually meaningless if there is no Cross or Resurrection.
Perhaps there is no better day to begin to remind people about God's great mercy and Jesus' great offering of Himself as a sacrifice for us on Good Friday than Boxing Day!
Come to think of it I think that I will go and buy a 'coupla dozen' 'Hot Crossies' myself straight away just to help jog my memory of God's great love and mercy.
May you and all your Family be greatly blessed this during this 'New Year- Easter' time.
Neil Flower – TRAX Asst. Chaplain
0408 216 401
Give me a call and we can have a chat about this subject.